Juice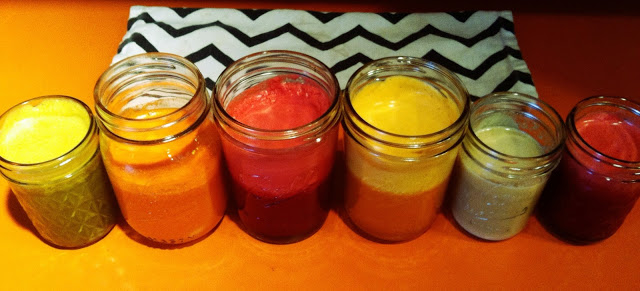 This last summer I came across this great little coffee shop that also makes the most amazing juices. After going there daily for about 6 months I realized I was spending close to $200 a month on freshly made juice. It was time to get a juicer of my own.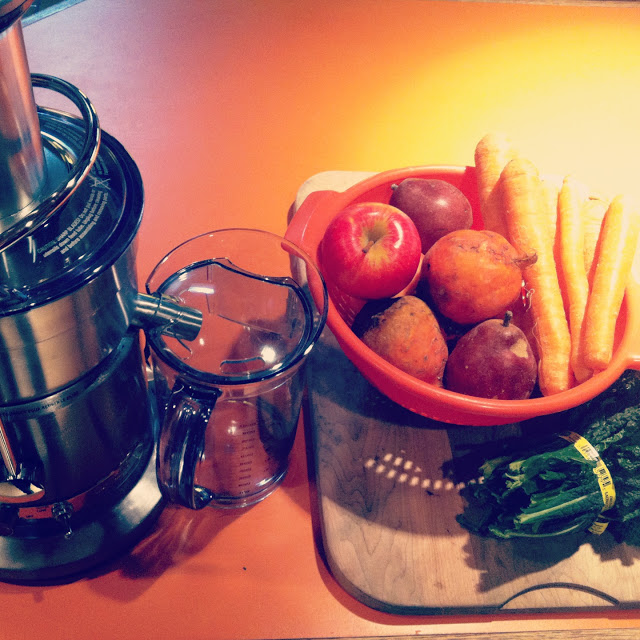 I have the
and I absolutely love it. There is a bit of clean up work involved, which is also why I think it is better to do a small batch and freeze your daily portions.
It also works great to make a vegetable stock with whatever I have on hand. I simply juice and freeze. Next time I need vegetable stock for my soup, I'm ready to go.
Today I made an assortment of juices based off of the fruit and vegetables we received from our CSA. I look forward to making new combinations as the seasons change. (something cucumber, celery, parsley would be nice in the summer)
I started off by making a simple ginger juice. You can use this in several ways. Add to your other juices. Make a tea with honey. Use in your cooking, possibly for a soup.
Carrot, orange and ginger juice.
This is also fantastic if you take this juice and blend with a frozen banana.
Orange, ginger, carrot and golden beet. I love the difference you can taste when using golden beets versus red beets.
Apple, kale, carrot.
This was my first time juicing kale. I did not have much luck as it seemed most of the kale went into the bin. I will try again. Or possibly still to blending my greens and then adding them to the juice. Has anyone else had luck juicing kale?
Beets, apple, orange and carrot.
This is one of my favorite combinations. Luckily Jake and Lola like this one too.
After reading this article, I cannot wait to make my own almond and pistachio milk with the juicer, or can you imagine cashew milk, that would be amazing.
This article gives some great juice recipes as well.
I would love to learn more about what you can do with all of the pulp after juicing. I have heard of people using it in their muffins. I plan to use mine as a compost in my vegetable & herb pots.
Enjoy...Happy Juicing!