lemon ricotta baked doughnuts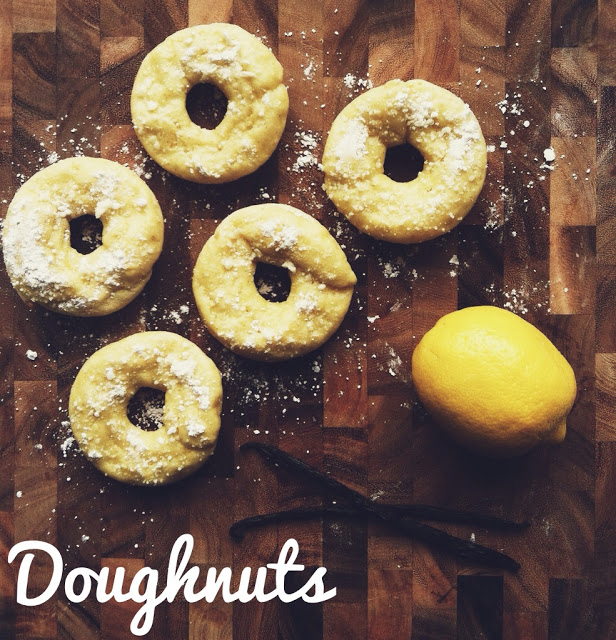 I love lemons. I love vanilla. And I love doughnuts.
These doughnuts are amazingly moist and flavorful. Perfect easy to grab breakfast with your coffee or tea in the morning. They are fast to make and hold up quite well in a sealed container for a few days.
Enjoy!
* For a more traditional doughnut, skip the baking pan and heat up oil to 350 degrees in a heavy pot. Using a spoon or ice cream scoop drop batter into the hot oil and turn occasionally until golden brown. Place on paper towels. Dust with powdered sugar or honey.
1 1/4 cup all-purpose flour
2 teaspoons baking powder
1/4 cup sugar
3 eggs
8 ounces ricotta, whole or skim
1 teaspoon vanilla extract
1 tablespoon grated lemon zest
Preheat oven to 350 degrees. Use baking spray to coat doughnut pan (muffin tin would work as well).
In a medium bowl sift together flour and baking powder. Add sugar, eggs, ricotta, vanilla and lemon zest. Stir until combined.
Fill the doughnut pans three quarters full with the batter (I fill a ziploc bag and cut off the end to easily fill doughnut pans). Bake for 15-17 minutes. Let them cool in the pan for 5 minutes. Then remove doughnuts and allow to further cool.
Topping ideas: powdered sugar, honey, or jam. However, they are also perfect as is.