Olive Oil Cake with Tomato Confit featuring Oregon Olive Mill
A few weeks ago I was invited to take a tour through Red Ridge Farms in Dayton, Oregon. I had been there for a wedding, but this time I was able to spend a few hours walking the property, tasting the olive oil, enjoying their wine, shopping their store filled with local products, and savoring the spectacular view of wine country.

Throughout the tour I learned how the olive mill started, walked through the pressing facility, and tasted their 4 Extra Virgin Olive Oils: Arbequina, Koroneiki, Tuscan, Frantoio. Each of which has their own distinctive flavor and aroma.
Arbequina is one that I use the most in my every day cooking. Whether that be for salad dressings, baking, serving fresh tomato slices with basil. It has a nutty, buttery flavor with a mild pepper finish. Arbequina is also the olive oil that Salt & Straw uses for their Olive Oil ice cream, my personal summer favorite!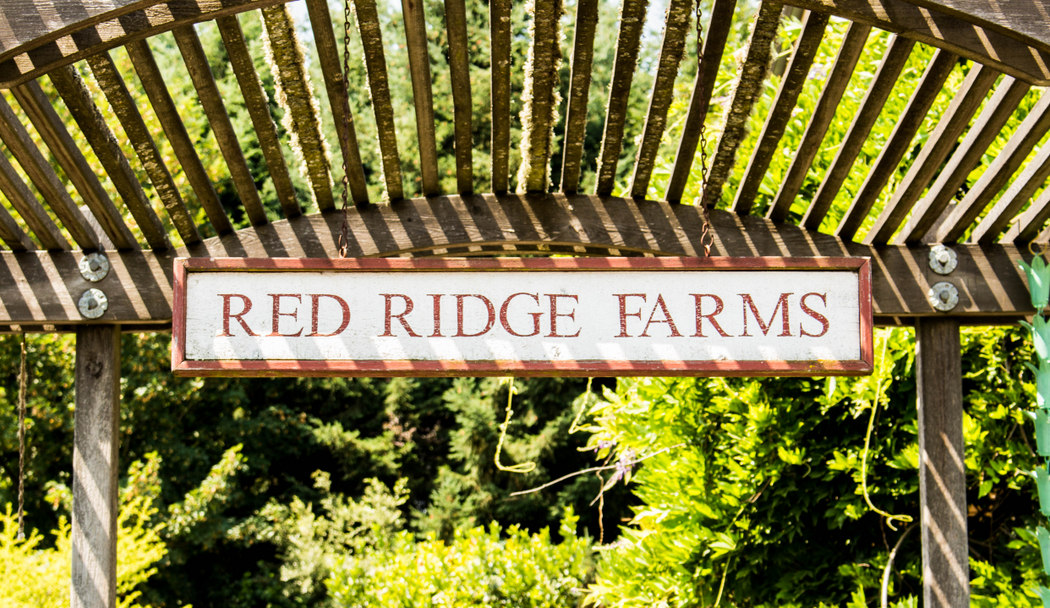 My favorite part about the tour happened during the tasting. Where we tried these 4 delicious oils and then sampled a cheaper extra virgin olive oil. The less expensive one tasted like pure chemicals. Weeks after the tour, especially while I am shopping, I have been thinking about that experience. Tasting the olive oil that you tend to reach for in the store because it is so much cheaper. Realizing that even though it sometimes is hard to spend the extra few dollars on a certain ingredient, it almost always pays off. And changes the way you feel about food.
For this recipe I used to of Oregon Olive Mill's Extra Virgin Olive Oil. Arbequina for the olive oil cake and Koroneiki for the tomato confit. The Koroneiki has a mild arugula flavor and paired perfectly with the tomatoes and herbs.
Please note, this is called a Olive Oil Cake, but served in this way, it is completely savory. And honestly one of my most favorite things I have made this summer. I love it topped with the sweet tomato confit and a big dollop of sour cream.
And guess what...Oregon Olive Mill will be at Feast Portland Oregon Bounty Grand Tasting both Friday and Saturday, September 19th + 20th.
Tickets are selling fast, go online and buy them now. Let's hang out!
Bon Appétit Presents Feast Portland: A Celebration of Oregon Bounty is the flagship food and drink festival in the Pacific Northwest, capturing the current energy and enthusiasm driving America's food revolution. Feast Portland showcases local culinary talent and Pacific Northwest ingredients alongside internationally recognized chefs, culinary professionals and industry leaders. Feast Portland is also a festival with a mission, donating its net proceeds towards ending childhood hunger in Oregon and around the country through Partners for a Hunger-Free Oregon and Share Our Strength's No Kid Hungry® campaign.

In case you missed it, I talked about Double Mountain, one of my favorite breweries being at Feast as well!
Olive Oil Cake with Tomato Confit

Olive Oil Cake
1 1/2 cups flour
1 cup sugar
1/4 teaspoon kosher salt
1/2 teaspoon baking soda
1/2 teaspoon baking powder
2 large eggs
3/4 cup whole milk
1/2 cup olive oil (I used Oregon Olive Mill Arbequina)
Preheat oven to 325 degrees. Generously oil bread pan and set aside.
In a large bowl, whisk together flour, sugar, salt, baking soda and baking powder.
In a small bowl, beat together eggs, milk and olive oil. Fold wet ingredients into the dry mixture until almost combined. Pour batter into prepared bread pan and bake for 15-20 minutes, until tester comes out clean.
Let cool for 15 minutes in the pan before removing the bread and continuing to cool on a wire rack.
Tomato Confit
1 pound of cherry tomatoes, or a combination of your favorite small tomatoes, halved
1/3 cup olive oil (I used Oregon Olive Mill Koroneiki)
1 tablespoon of fresh herbs (I like to do a combination of thyme, oregano, sage)
kosher salt and freshly cracked pepper
In a large skillet over medium high heat, add the tomatoes and olive oil. Stir in the fresh herbs and a very large pinch of kosher salt with a few grinds of black pepper.
Let the tomatoes get really hot where the oil starts to crack and the tomato skins blister. Then, reduce the heat to medium low and simmer for almost 1 hour. Come back and stir about every 10-15 minutes.

After an hour, remove from the heat and let cool for 20 minutes. Taste and adjust seasonings if needed.

To serve, slice olive oil cake, top with a generous amount of tomato confit and a large dollop of sour cream.
If by chance you have leftover tomato confit, use as pizza sauce, stir into your pasta, or use as sandwich spread. OR my favorite, serve with toasted french baguettes, smeared with goat cheese and topped with the confit. My favorite summer meal.