ham + cheese pastry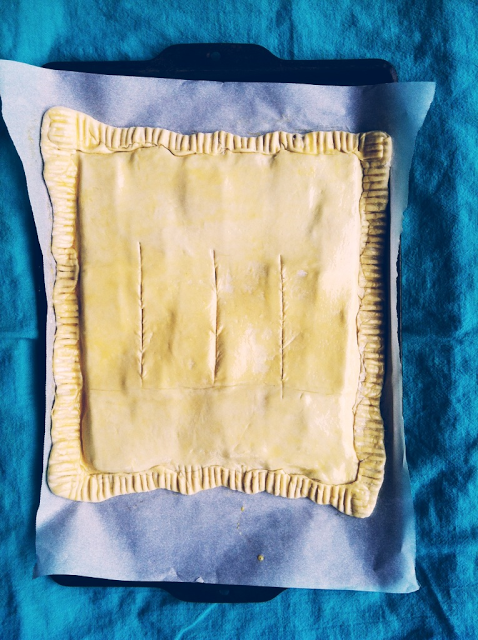 Last night's dinner took me approximately 17 minutes to put together and that included our goat cheese & beet salad. Yay for fast yummy dinners!
This recipe is great as you can adapt the ingredients to what you have in the kitchen. No Gruyere? Use cheddar or swiss. No ham? Use turkey. Add some vegetables? Sure, why not.
I put this together, leaving the final egg wash off and placed in the refrigerator until it was dinner time. Simply remove and bake. Easy, I love that! Great make ahead meal.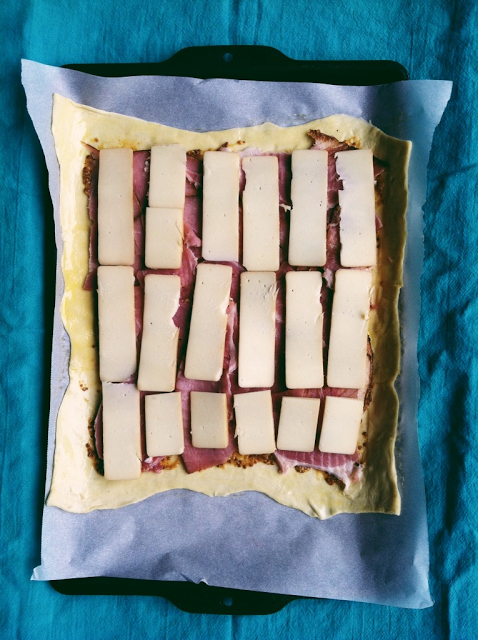 adapted from: Joy the Baker
2 sheets all butter puff pastry, cold but defrosted
1 large egg, beaten
1/4 cup whole grain mustard
1/2 pound thinly sliced ham (recipe calls for Black Forest, however I used Honey Baked Ham, either will work)
1/4 pound Gruyere cheese, sliced
Line baking sheet with parchment paper and set aside. Preheat oven to 400 degrees, moving rack to the center.
Unfold one sheet of puff pastry onto a lightly floured surface. Gently roll dough increasing each side by 1/2 inch. Place rolled pastry sheet onto baking sheet. Create egg wash. Brush pastry sheet with egg wash from edge to edge. Spread mustard on top of egg wash, leaving 1/2 inch space between mustard and the edge. First layer on the ham and then the cheese.
Unfold the second sheet of puff pastry and gently roll dough increasing each side by 1/2 inch. Place this puff pastry sheet on top of the ham and cheese. Press the edges together. Fold edges over creating a crust. Using a fork, press the edges together again.
Brush the pastry with egg wash from edge to edge. Create 3 long slits with sharp knife on the top of the pastry.
Bake for 20-25 minutes until golden brown. Allow to cool for 5-10 minutes before serving.