vegan mac + cheese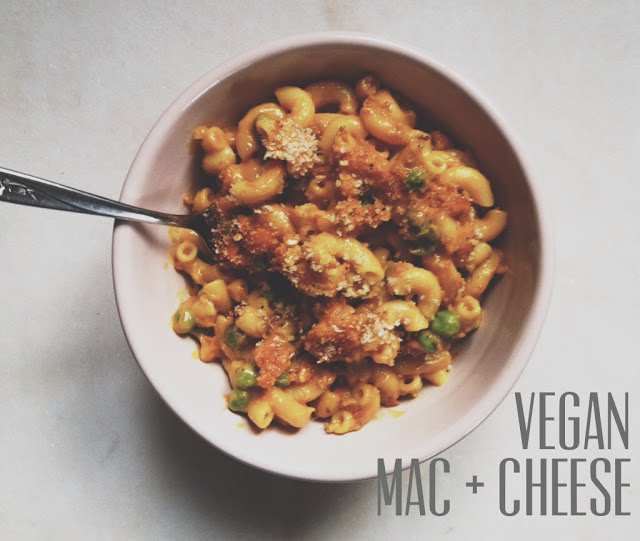 If you ask Lola what her favorite meal is, she will 100% of the time say mac & cheese. From when she started eating solids, I have always made meals the whole family can eat. I don't know about you, but I don't have the time to prepare a meal for Jake and I and then prepare a separate meal for the kids. This I believe has really helped make Lola a non-picky eater. She loves beets, artichokes, mushrooms, seafood, just about everything.
As Hudson is now eating more solids I have been trying to cook meals that he as well can eat. He is not ready for dairy products, nor does his body react well when I eat too much dairy. This vegan mac & cheese was perfect. Lola loved it, Hudson couldn't get enough, and Jake (who gives me a funny look when I say vegan) had several helpings.
*Adjust seasonings per your taste. Feel free to add in more or different vegetables. Carmalized mushrooms would be tasty.
adapted from: Love and Lemons
1/4 cup vegan butter (or substitute regular butter)
3 cloves garlic, minced
1 small onion, finely chopped
1/4 cup flour
squeeze of lemon from 1/2
1 cup coconut milk
1/4 cup nutritional yeast (powder or flakes will work)
2 tablespoons dijon mustard
2 tablespoons tomato paste
2 teaspoons turmeric (can adjust 1-2 teaspoons, per taste)
1 teaspoon plus extra smoked paprika
10-12 oz elbow pasta
reserve 1-2 cups pasta water
1 cup of frozen peas
salt & pepper to taste
1/4 cup panko bread crumbs (regular bread crumbs will work too, just not as crunchy)
1/4 cup chopped pine nuts (*this can be left out)
pinch of smoked paprika and cayenne pepper for topping
drizzle of olive oil for topping
Melt butter in medium pan over medium heat. Add onions and a pinch of salt, cook until translucent. Add flour and whisk. Add garlic and reduce heat to medium-low. Cook for a few more minutes. Squeeze 1/2 lemon and scrape the bottom of the pan for bits. Add coconut milk, nutritional yeast, mustard, tomato paste, paprika, turmeric and additional pinches of salt. Let simmer for 15 minutes, stirring occasionally. Once finished, I used a hand blender to make the sauce more creamy, breaking up the onion. This is optional. Adjust seasonings per taste.
Cook pasta to al dente. Reserve 1-2 cups of pasta water.
In a large bowl, add cooked pasta, 1/2 of the sauce and peas. If needed, add pasta water to thin the sauce. If you want more sauce and creaminess, add additional sauce. Or stop here and let everyone add there own additional sauce once served. *I only needed half of the sauce, where Jake & Lola wanted more.
Preheat oven to 450 degrees. Place pasta in baking dish, adding a couple tablespoons of pasta water. add breadcrumbs, *pine nuts, pinch of salt, cayenne pepper and smoked paprika. Drizzle with olive oil. Bake until golden, about 10 minutes.