shiitake + sesame soba noodles
During the week our evenings can be a blur. Make dinner. Bath time. Clean kitchen. Pick up toys. Bed time. More times than not, dinner's have to be fast.
This recipe is very open to adjustment. If you don't have napa cabbage, use green cabbage. If you don't have green cabbage, use zucchini, or cucumbers or carrots, or celery. The options are endless.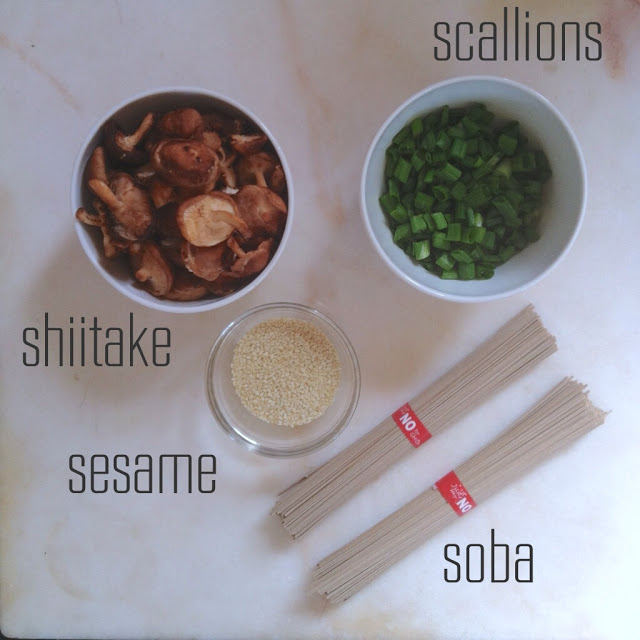 adapted from: Love and Lemons
4-6 ounces soba noodles
1 tablespoon toasted sesame oil
coconut oil for the pan
1 cup sliced shiitake mushrooms
2 cloves of garlic, sliced
sliced ginger (*adjust amount to your taste)
2 cups raw shredded napa cabbage (*green cabbage will work too)
1/2 cup chopped scallions
soy sauce (* we used 2 tablespoons, but start with 1 tablespoon and adjust to your taste)
1-2 teaspoons of mirin (*optional, cooking sherry with a pinch of sugar will work too)
2-3 tablespoons of rice vinegar
sriracha (*adjust to your taste)
sesame seeds for garnish
Cook soba noodles in salted boiling water for 6-8 minutes. Drain. Rinse with cold water. Drain again. Place noodles in large serving bowl and toss with sesame oil. Chill in the fridge.
Heat coconut oil in a large skillet. Add shiitake mushrooms and cook for a few minutes until they begin to soften. Add garlic, cabbage, ginger, half the scallions and soy sauce. Cook for 2-3 minutes. Add the mirin and cook until cabbage has softened. Remove from heat and set aside to cool.
Toss the vegetables with the cold soba noodles and the remainder of the scallions. Add 1-2 tablespoons of rice vinegar and a teaspoon of sriracha. Adjust to your taste. Adding more soy sauce, rice vinegar and or sriracha.
Garnish with sesame seeds. Serve at room temperature or chilled.