granola crusted nuts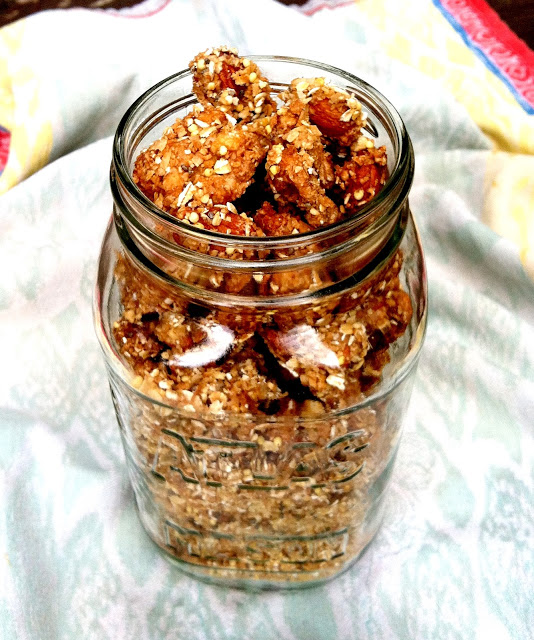 Hudson is almost 11 months (how did that happen?) and all over the place! It is funny how different kids are. When I was pregnant with Hudson I felt confident, I mean, I had Lola, how different can they be? Lola was and still slightly is a little cautious. She has never gone to the hospital and has never had a serious injury, yet. Hudson is pure boy. He is determined to go down the stairs. Wrestle the cat. And never slows down.
When it comes to snacks during the day they can be my downfall. Mornings are remotely easy. I start off with a cup of coffee followed by a glass of my juice with a hard boiled egg. Both of which are made in advance. Lunch is often leftovers with a side salad. Dinner is usually (my goal at least) balanced with protein and vegetables. But when your day is busy it can be hard sometimes to keep your snack healthy unless you have it planned out.
These nuts are so easy and fast to make. Lola practically makes them by herself. They store in a container and will last all week, although I don't think we have had them that long in our house. I like to put them in individual bags for every one's snack for the day. Often times a handful of almonds does not do the trick for me, I need something more, these granola-crusted nuts are that something more.
Oh, and don't toss the leftover granola mixture that did not stick. Save to put on top of your yogurt.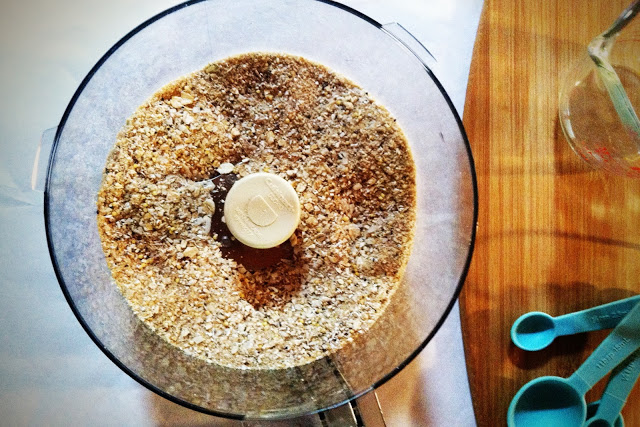 Make sure to only pulse the mixture 3-4 times. You want to still see some whole oats. If you pulsed too many times, turning the oats to flour just add a small amount more of oats.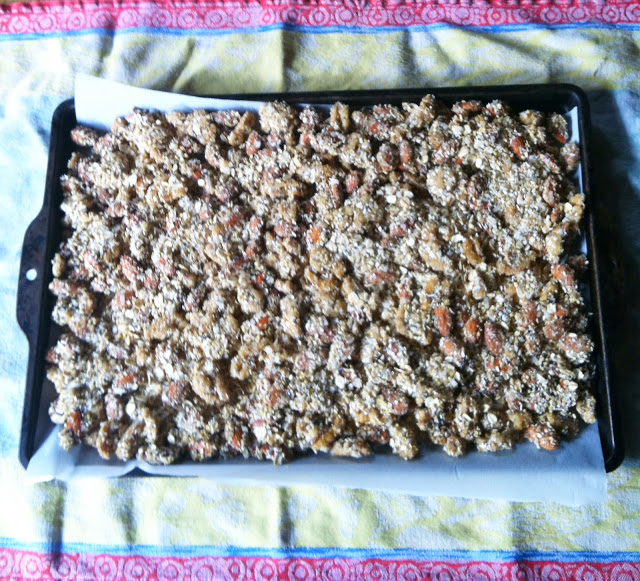 Lately I have really been trying to cook with what I have in my kitchen rather than buying 10 new ingredients for one meal. That is the great thing about this recipe, it is 100% flexible. Add whatever nuts you love, note, I love pistachios, but did not love them in this recipe.
* Pecans would be excellent here, I just did not have them on hand. As mentioned above, I did not like the flavor of pistachios with the granola crust. Use whatever seed you have instead of millet and chia, or no seed at all. Add vanilla. Add nutmeg. Want it more sweet? Add honey or maple syrup or a handful of dark chocolate chips.
adapted from: smitten kitchen
3/4 cup rolled oats
1/4 cup shredded unsweetened coconut *
2 tablespoons raw millet *
1 teaspoon chia seeds *
1/4 cup brown sugar
1/8 teaspoon ground cinnamon
sea salt
1 large egg white
2 teaspoons water
2 cups of nuts (I did 1 cup walnuts/1 cup almonds)
Preheat oven to 300 degrees.
Line baking sheet with parchment paper.
Combine oats, coconut, millet, chia seeds, sugar, cinnamon and salt in food processor. Pulse a few times until the oats are chopped, not powdered.
Beat egg white and water in large mixing bowl.
Add nuts to bowl and coat them well (this ensures the oat mixture will stick).
Pour oat mixture and fold it together with the nuts a few times. Do not over mix.
Spread the nuts onto a baking sheet in a single layer. Dump any extra granola mixture over top of nuts.
Bake for 20 minutes, half way through turning them once. Continue baking if nuts are not toasted after 20 minutes (5-10 minutes more).
Let cool and then break the nuts apart. Store in container.
P.S. These are excellent warm